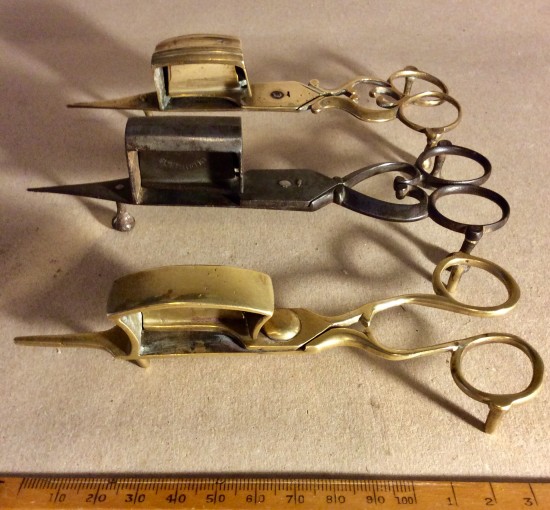 Antique metalware candle stuffers /wick trimmers.
Country of Origin: UK
Date: C1840-C1880
Condition: Good original condition
Description: Two brass and one cut steel wick trimmers. Top: Decorative brass pair with original feet. Spring broken. £35.00. c1880 Middle: Cut steel pair, original feet. Spring still ok but loose. Stamped SUPERFINE see detail photo. £55.00. c1840. Bottom: Plain brass pair with unusual shaped snuffer box.plain feet original. No spring. £45.00. C1850.
Dimensions: Top: L 16.3cm, H 4.5cm, W 5.8cm. Middle: L 16.6cm, H 4.3cm, W 5.3cm. Bottom: L14.9cm, H 3.8cm, W 6cm.
Price: £35.00- 55.00
Stock Number: AWM111901