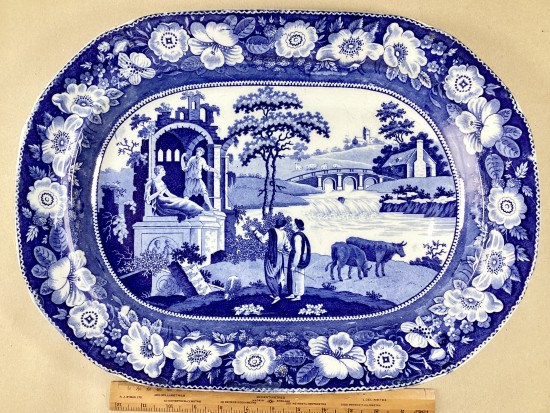 Antique 19thC Pottery Meat Platter, "The Philosopher" pattern.
Country of Origin: UK
Date: C1830
Condition: Good original condition
Description: Large blue and white pottery Meat platter with rare print "The Philosopher" pattern. Good clean clear print. The rare scene shows two actors on a stage in a ruined arch, playing to two farmers with cows in a country landscape.A river and bridge in distance. Impressed 18 to back. No cracks chips or repairs. Age related wear to edges. Faults to note- the blue tinge to clear glaze on back is a bit thin under rim on both ends. The plate has sagged in the firing and this movement makes the platter a rocker on the diagonal. See detail photo.
Dimensions: Length 48.6cm, Width, 35.5cm.Height 4.5-5cm.
Price: £175.00
Stock Number: AWP072301