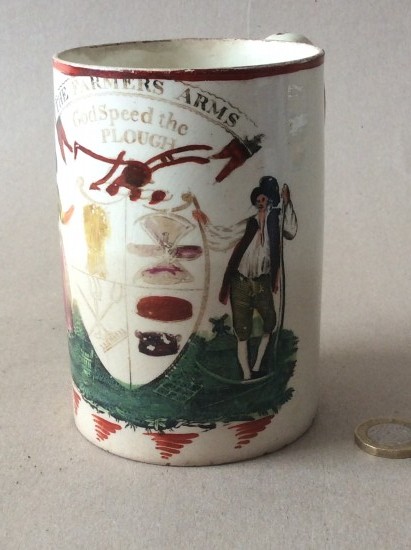 Antique late 18th century creamware Farmers Arms tankard - mug.
Country of Origin: England
Date: C1780
Condition: As found (see description)
Description: Creamware tankard, possibly Leeds. As found unrestored condition. Faults to note. 1. Rubbed paint on shield. 2.A vertical half inch hairline at rim. 3. Staining at rim and in bottom half of body. 4. Chip to footrim. A tired but unrestored example. Please contact me for more photographs and any questions about condition.
Dimensions: Height 2.2cm. Diameter top & bottom 8.3cm. Max width 12.5cm.
Price: £195.00
Stock Number: AWP092101