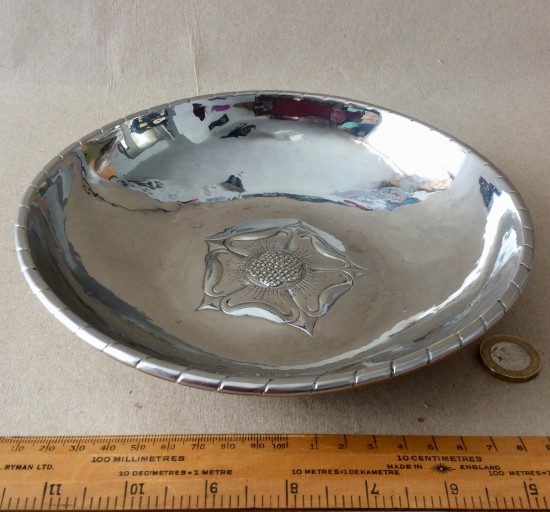 KESWICK KSIA Staybrite hand hammered bowl with rose centre.
Country of Origin: England
Date: 1931-1984
Condition: Good original condition
Description: Keswick School of Industrial Art 'KSIA' was founded in 1884 and developed a reputation for stylish Arts and Crafts hand worked copper and silver metalware. These were retailed locally and through shops such as Liberty &Co. In 1931 they introduced FIRTH STAYBRITE a stainless steel. This soon became very popular, accounting for 50% of sales. This shallow bowl or dish is a superb example. The steel is rolled over an iron rod at the rim. The finely planished bowl has a repousse hand hammered rose to centre. The bowl is marked KESWICK with KSIA Trademark. FIRTH STAYBRITE. It has the mark H1 to left hand side and 113 to right. No major faults. Age related wear.
Dimensions: Diameter 20.5cm, Height 4.0cm
Price: £100.00
Stock Number: AWM081901