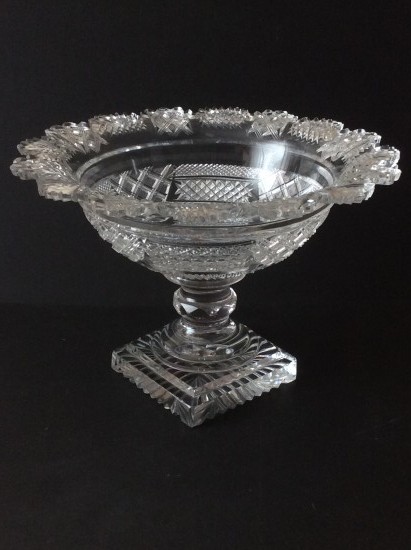 Antique early 19th century cut glass pedestal bowl or tazza.
Country of Origin: UK
Date: C1820
Condition: As found (see description)
Description: Super Regency cut glass pedestal bowl or tazza. The very sharp all over cutting is a fine example of the period. The step cut square base cut underneath with diamonds to centre and fans to corners. Stem has a central cut knop. The bowl cut with blocks of diamond and hobnails. The large flange rim cut with alternating blocks. The edge with alternate scallops and fans. A very intricate design. No cracks or restoration. One lobe to scallop edge missing, see 3rd photo at half past six. Some minor edge nibbles. Nothing that detracts from overall look. The colour is a blue grey which is also pleasing.
Dimensions: Height 15cm. Diameter top 21.5cm. Square base 8.5cm.
Price: £250.00
Stock Number: AWG092101