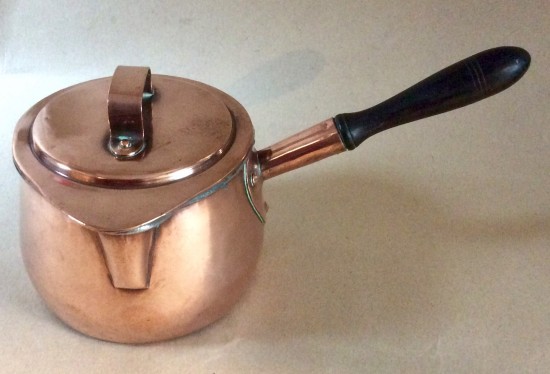 Victorian copper sauce or milk pan and lid
Country of Origin: U.K.
Date: C1890
Condition: As found (see description)
Description: Good mid size rounded copper saucepan and lid. The pan has a pouring spout and is slightly bellied. Original condition but resilvered to inside. No holes, tears ,or repairs. Turned ebony or rosewood handle that looks original. Makers mark to base is for William Souter and Sons, Birmingham. W.S&S above a B.
Dimensions: Overall width 29cm. Max height 15cm. Diam. Pan top 13cm. Height pan W/O lid 10cm. Cap approx 1.3litres.
Price: £SOLD
Stock Number: AWM091801